Abilities' youth employment programs: Making a difference
Individuals with disabilities sometimes face a long, uphill battle to achieve routine milestones that most people take for granted. Attending college, living independently, and finding a job – just to name a few – can be challenging, especially without support.
"Abilities of Northwest Jersey Inc. offers programs that support students with disabilities in their efforts to achieve post-secondary education, workplace readiness, independent living skills, and community employment. Through programs such as our Center for Adult Transition (CAT), based on the campus of Warren Community College (WCC), we can support individuals and their employment and life success."

Sue Zukoski, Abilities Chief Operating Officer.
CAT is a free, state-funded grant program for high school graduates between the ages of 18 and 24 that promotes opportunities for employment independence. Offered in conjunction with Warren Community College, CAT provides classroom instruction in soft skills, life skills, resume writing, job interview instruction, career exploration, job sampling, and an overview of certificated courses offered at WCC instructors.
Rah'nisha, a resident of Phillipsburg, discovered a passion for the health care field while attending the CAT program. With the support of her job coach, she gained confidence and learned proper interviewing skills that she was able to use to secure her position. She now works at a local nursing home as an activities assistant.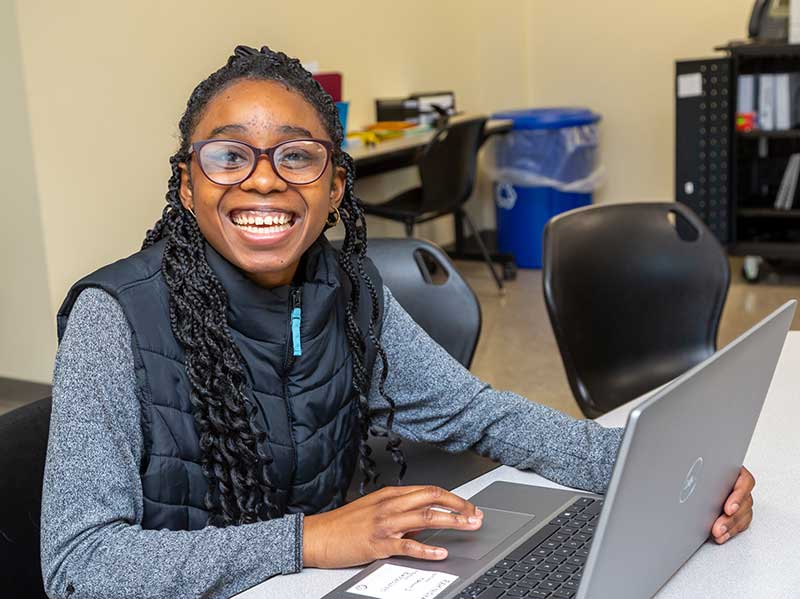 "The CAT program helped me gain the skills I needed to earn a job in health care."
Hackettstown resident Kylie is another graduate of the CAT program who turned education, training, and job sampling into a job and the opportunity to further her education in child development. Kylie now works part-time at a local gymnastics studio where she guides students prior to their instruction, assists coaches during training, and waits with the students afterwards for their family members to pick them up.
Kylie is also attending County College of Morris part-time, where she is working towards her certificate in Child Development.
"I focused on becoming independent at work while also developing the skills I needed to get and keep a job. The CAT program gave me the start I needed, and I appreciate all of the help and guidance I have received."
CAT is one of three youth employment programs offered by Abilities in conjunction with community partners and local and state educational services. Through these programs, young adults have gained training and employment opportunities that otherwise would not have been available to them.
For more information about CAT, contact Abilities at [email protected] or (908) 689-1118.
---
Project SEARCH
Project SEARCH is a school-to-work transition program for young adults with intellectual and developmental disabilities. This tuition-based internship program at Newton Medical Center and Atlantic Health System's Hackettstown Medical Center includes daily classroom instruction focused on employability skills and internship rotations.
Developed at the Cincinnati Children's Hospital Medical Center in 1996, Project SEARCH is available at more than 500 locations nationwide. Locally, Project SEARCH is a collaboration between Atlantic Health System, the NJ Division of Vocational Rehabilitation, Sussex County Educational Services Commission, the NJ Division of Developmental Disabilities, and Abilities of Northwest Jersey Inc. Applications are available online at www.sussexesc.org.
---
Student Internship Program
Through a grant from the NJ Division of Vocational Rehabilitation and in partnership with businesses in Warren, Hunterdon, Sussex, and Morris Counties, Abilities provides internship opportunities for high school students ages 14-21. Participating students receive $18 per hour and work a total of 150 hours, while receiving training and mentoring.
Additional information is available by contacting Abilities at 908-689-71118 or [email protected].
---
"Our partnerships with state and local agencies, local organizations and businesses, and community partners help young people like Rah'nisha and Kylie to have the opportunity to achieve their career goals and lead independent lives. We're proud of the success they have had and look forward to seeing what they will do in the future."

Sue Zukoski, Abilities Chief Operating Officer.
---